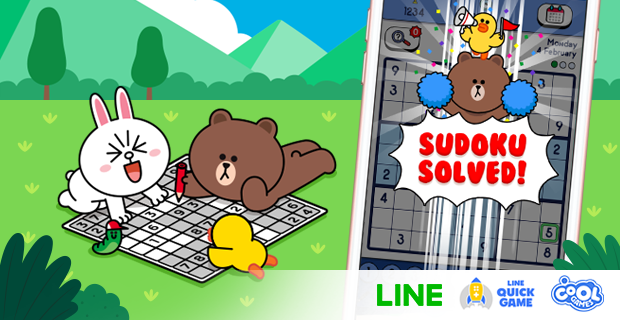 AMSTERDAM/TOKYO, June 28, 2018 – Today, LINE Corporation, the leading messaging app in Japan, announced its upcoming LINE QUICK GAME service. With LINE QUICK GAME, LINE users can play games instantly from within the LINE messaging app, without the requirement to download the game first from a traditional app store.
As its first title for LINE QUICK GAME, CoolGames has developed a customized Sudoku game, based on its existing Daily Sudoku that has been successfully published on many other platforms before. With the game, users can unlock a series of new Sudoku's every day, while gradually improving their experience and ranking on LINE leaderboards. The game also features several popular LINE characters, including Brown, Cony and Sally.
"We are excited to bring a version of one of our most popular games to this new platform", says Laurens Rutten, Founder and CEO. "With our focus on high quality games for messaging platforms, it's great that we can now also offer great game experiences to the millions of daily users of LINE." LINE QUICK GAME will be opened up to game players in the summer of 2018.