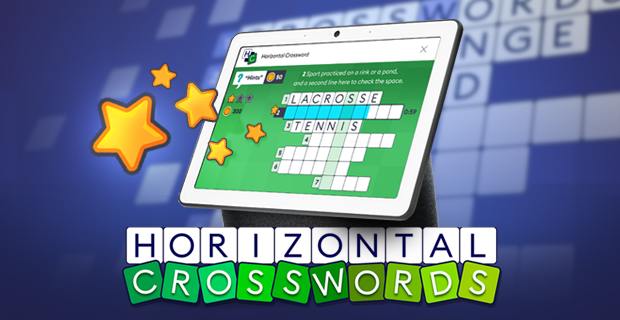 AMSTERDAM, October 8th, 2020 – Google has chosen CoolGames to develop the first voice-controlled crossword game for Google Assistant.
Horizontal Crosswords, a uniquely designed crossword game for Smart Display devices, such as the Google Nest Hub is available today. Games for Smart Display devices take full advantage of the screen in combination with voice and touch controls for instant, easy fun.
With Horizontal Crosswords, puzzle fans can solve fresh crosswords with various difficultly levels, every day. The game lets players say the correct answers or navigate through the words by giving voice commands. When all the horizontal crosswords are correctly resolved, a vertical solution word is revealed.
John Hsu, Product Manager Google Assistant at Google, says, "We are thrilled to bring such a popular puzzle genre into the living rooms, kitchens and bedrooms of the Google Assistant user community."
CoolGames developed the game in close partnership with Google and Keesing, the largest puzzle and braintainment company in Europe.
Laurens Rutten, founder and co-CEO of CoolGames, comments, "Word games and crosswords have been among the most popular puzzle-genres for more than a century. Played by millions of people every day, via puzzle books, newspapers or mobile apps. It's a logical step to now also be able to solve a word game by natural spoken language."
Horizontal Crosswords is now available in English. Other languages will follow soon.
Philip Alberdingk Thijm, CEO of Keesing, reacts, "Keesing aims at following consumers and allowing them to consume our content in the way they want, when they want it. Through this exciting new partnership with CoolGames and Google we take a next step in our digital strategy and offer our fun puzzle content through the new Google Assistant games platform."
Just this August, CoolGames launched its first voice operated game Guess the Drawing for Google. The game lets players guess what's being drawn on the screen, as quickly as they can. More voice operated games are planned for the near future.