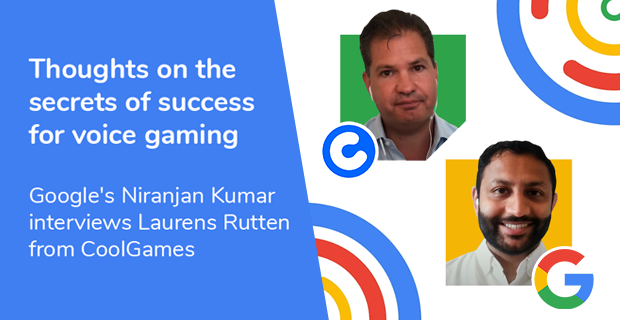 Amsterdam, October 29, 2020 – People who joined Google's developer event on 8 October learned about all of Google Assistant's new platform features. We are delighted Google highlighted our voice assistant game, Guess the Drawing as a successful use case during the event.
People love voice assistants because they make everyday activities like gaming more fun. Google is committed to creating memorable experiences with voice assistants that engage people and they can trust on Google Assistant.
At Google's event, Niranjan Kumar of Google invited our co-CEO Laurens to talk about the impact of voice on gaming.
In their video interview Laurens predicts voice control will be a common feature in many more game platforms to come. He also explains how the CoolGames team created Guess the Drawing. Check out the full interview below.
We were thrilled when Google chose us to develop voice control games for Google Assistant. Guess the Drawing has been live since July. Horizontal Crosswords launched earlier this month.
People seem to really love the games we made for Google. Google are also enthusiastic. Niranjan says about our partnership, "We love collaborating together and I think that was our goal as well."