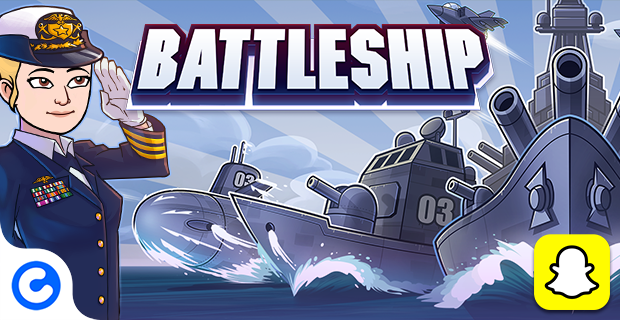 CoolGames partners with Snap to bring Hasbro's Battleship to Snapchat
AMSTERDAM, 30 June, 2021 – CoolGames has released Hasbro's Battleship Game for Snap Games, Snapchat's HTML5 gaming platform. Snapchat's 500 million monthly users can now challenge each other and instantly engage in the naval combat fun of the original Battleship on any mobile device.
Battleship has reached close to four million players since it soft launched on Snap Games two weeks ago. Its retention rate is one of the highest on the platform.
Snap is teaming up with CoolGames as its first partner to integrate their new asynchronous social features like Custom Chat Updates to help games become more social, shareable and retentive experiences. Coming soon, Battleship players will be able to search for and fire at their enemy's fleet whenever they want, this is true even when their challenger is not online. They will be notified when their opponent fires back.
"We are thrilled to introduce this iconic board game to Snapchatters," says John Imah, Head of Games and Brand Partnerships at Snap Inc. "As an expert in developing cloud-based HTML5 games, CoolGames perfectly captured what players have cherished for years about Battleship while ensuring it works seamlessly inside the Snapchat platform."
"Snap Games is growing at an impressive speed, becoming one of the world's leading game platforms outside the traditional app-stores," says Laurens Rutten, founder and co-CEO of CoolGames. "Snapchatters have really embraced the idea of seamlessly playing and sharing mobile game experiences with their friends from within their favourite messenger app. We're delighted to be Snap's partner of choice and to bring Battleship to their millions of users for the first time."
The Post App Store Era
People increasingly favour platforms where they can instantly join the games that their friends are playing, without the hassle of downloading it first from a classic app-store.
"Cloud based HTML5 is the technology of choice in gaming for a growing number of next generation platforms from 'big tech' players such as Snap," continues Rutten. "HTML5 has come of age and these companies are reaching massive audiences with it."
About the Game:
Battleship for Snap Games has been designed with gameplay and animations in mind to specifically appeal to Snap's Gen Z and Millennial audiences. It is a real-time, turn-based multiplayer game where users can engage in sea battles against their Snapchat friends. Through CoolGames' matchmaking system, people can challenge random Snapchatters and their friends for battles. Special power-ups such as the Air Raid can be unlocked to help defeat the opponent's fleet.
Battleship is the second title for Snap Games developed by CoolGames' in-house studio and is based on cloud-based HTML5 technology. The company launched Storm Skaters for Snapchat in September 2020.
"CoolGames continues to successfully adapt Battleship to work seamlessly in messenger and social platforms, while maintaining the core 'You sunk my battleship fun' that people have enjoyed for years", said Richard Cleveland, Vice President of Digital Gaming at Hasbro. "We are thrilled to be able to bring this classic family favourite game to exciting and fast growing new platforms, like Snap Games."
➔ Battleship can be launched from within the Snapchat app
➔ A gallery of game images and the trailer can be found here