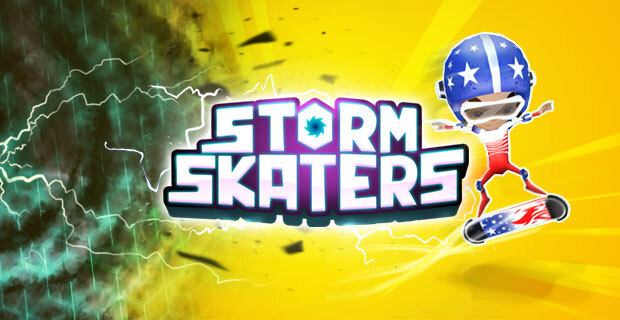 AMSTERDAM, September 15, 2020 – Today CoolGames globally released Storm Skaters, a real-time 3D multiplayer skater game, available exclusively on the Snap Games platform.
Storm Skaters is a fast-paced action game, letting players skate against each other on a flying hoverboard. The goal is to stay ahead of the approaching storm, while avoiding obstacles and traps left behind by other players. The first player reaching the finish line wins the match.
The game ties into Snapchat's social ecosystem and enables seamless play with friends, or random players when no friends are available. Storm Skaters can be launched instantly from a conversation within Snapchat, without the need for downloading the game first and get connected through account-linking, as is needed with mobile games from the traditional app-stores. Snapchat found that friends playing together spend more than double the time as when playing with unknown random players.
"Although we have released multi-player games on other platforms before, we're thrilled that Storm Skaters is our first real-time multi-player game in full 3D and uniquely aimed at Gen-Z, Snapchat's core audience", said Laurens Rutten, Founder of CoolGames. "It shows how HTML5 has matured as a cloud technology for games over the last years. We're already looking at developing more titles for this platform and the Snapchat community."
Snap's Head of Games and Entertainment Partnerships John Imah said: "Our focus has always been collaborating with developers to create fun social game experiences our community can play with friends. CoolGames has demonstrated an excellent example of this by developing our newest Snap Game, Storm Skaters. We're really looking forward to continuing to grow our partnership together."
Storm Skaters is now available for Snapchat users worldwide and can be started from the game launcher within Snapchat.