Amsterdam, Tokyo – December 22 2014: Today, CyberAgent and BoosterMedia launched two specially developed casual games for the popular Ameba platform: Flappy Haripit and Pigg Bubble. In the side-scrolling game Flappy Haripit the player needs to collect as many apples as possible along the way, without crashing into obstacles. And Pigg Bubble is a modern 'bubble shooter' game with dozens of challenging levels, different worlds and special power-ups.
Pigg and Haripit are famous characters that feature in many existing games and applications on the Ameba platform. Both new titles have been produced by BoosterMedia's in-house Game Studio in close partnership with CyberAgent. The games are fully developed in HTML5 and can be instantly played within a smartphone's browser.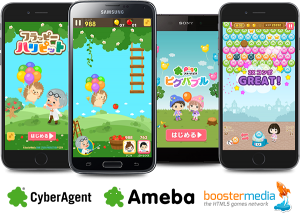 CyberAgent Inc., with its headquarter based in Tokyo Japan, was founded in 1998 and is active in the field of online services, advertising, games and media. The company is listed at the Tokyo Stock Exchange. CyberAgent first introduced Ameba in 2009 and it is currently one of Japan's most popular blogging, social networking and online games destinations.