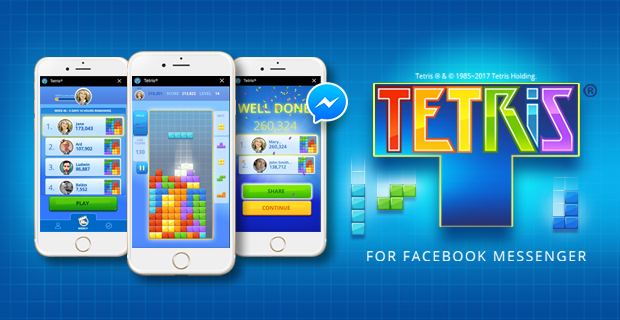 AMSTERDAM, November 30, 2017 – Tetris®, the iconic video game, goes live on the Instant Games platform for Messenger today.
"People using Messenger can now play Tetris instantly and share it with their friends. Messaging apps are the next big games platform, unlocking an audience of potentially billions of players," said Laurens Rutten, Founder and CEO of CoolGames. "It's great to be able to develop Tetris for this new and innovative platform!"
For more than 30 years, Tetris has been captivating hundreds of millions fans worldwide, with its iconic Tetrimino shapes and addictive gameplay.  Today, Tetris remains one of the most beloved and recognized video game franchises of all time and as new platforms emerge, Tetris is always on it.
With Tetris marathon mode, players need to clear lines with the goal of achieving the highest score possible. Adding to the intense gameplay experience, new high-score leaderboards, daily missions and simple to use friend-invites, so they can easily join in the fun, have been added for Messenger's 1.3 billion users to enjoy.
"Spanning decades and generations, Tetris has delighted hundreds of millions of fans worldwide, and we're excited to welcome this beloved franchise to the Instant Games platform," said Bob Slinn, Director, Games Partnerships EMEA, at Facebook. "The development team at CoolGames has honored one of the most popular games of all time, and with new platform mechanics like Group play on Messenger, fans have a chance to play, connect and share like never before."
Maya Rogers, President and CEO of Blue Planet Software, sole agent for the Tetris brand adds, "Whether it's on a laptop or mobile device, players across the globe love to play Tetris, which is why we're thrilled to bring the timeless fun of this beloved game to Messenger's billions of players."
Tetris for Instant Games is developed by CoolGames' in-house studio. CoolGames was a launch partner for Facebook's Instant Games platform in November 2016. Other successful titles that were released on Messenger include Battleship, Snake, and Jewel Academy. CoolGames plans to launch several new AAA titles for Instant Games in the coming months.
Tetris for Instant Games is now available to play for free here